Things You'll Need
Newspaper

Tablecloth (optional)

Plates

Nut crackers

Forks

Spoons

Knives

Bibs

Napkins

Moist napkins or wipes

Butter

Small bowls

Lemon juice

Platters

Serving bowls

Potatoes

Corn-on-the-cob

Hot dogs

Sausage

Hot dog buns

Ketchup

Mustard

Relish

Sauerkraut

Onions

Wide shallow bowls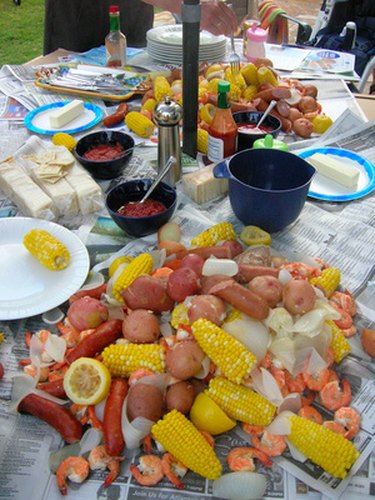 Lobster parties and lobster boils are a fun way to gather with friends and family and eat seafood. Usually this type of party takes place outdoors, because lobsters can be messy. Most lobster boils include clams, potatoes, corn, onions, hot dogs and sausage. Because so many food items are involved, there needs to be many different elements on the table to assist in eating.
Step 1
Cover the table with newspaper. This will help to soak up the water and juices from the food. You can cover the newspaper with a tablecloth if you want it to look a little nicer.
Step 2
Set out plates for each person. Place lobster or nut crackers beside each plate for cracking. Include a napkin, fork, knife and spoon at each place setting. Many people like to wear a bib to protect their clothing; fold them and place them beside the plate. Wipes are handy for wiping buttery fingers; if you do not want them on the table, place them on the buffet table in an inconspicuous spot.
Step 3
Melt a quarter stick of butter per person. Pour it in small bowls and set them beside every plate along the table. The butter is used for dipping the lobster. Lemon juice should be put on the table as well, if some people prefer it.
Step 4
Place a lobster on each plate. If you are not sure who is eating lobster, place them on a large platter in the middle of the table.
Step 5
Place the bowls of potatoes, corn and hot dogs on the table; if the table is getting full, you can place them on a separate buffet table. Each food item, although cooked together, should be put in separate bowls.
Step 6
Place several different condiments on the table if you have cooked hot dogs or sausages. Buns, ketchup, mustard and relish are the typical condiments, but you can also include sauerkraut and onions. These could also go on a buffet or condiment table.
Step 7
Put a wide shallow bowl on the table for the shells and inedible parts of the lobster. If it is a large table, you may want several bowls within easy reach of everyone.