Things You'll Need
Cutting board

Dishcloth

Salt, sugar or flour

Serrated chopping knife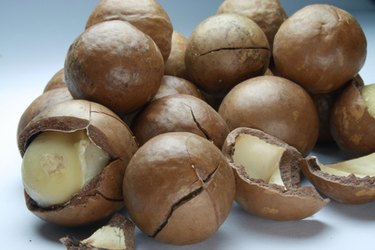 Though synonymous with Hawaiian cuisine, macadamia nuts are actually native to Australia where they are also known as the Australian hazel nut. With a total fat content of 21 grams per serving--more than any other nut--macadamia's are a rich and delicious splurge. The large, round shape of the nut makes them especially challenging to chop by hand and because of their high oil content using a food processor can quickly result in a chunky nut butter instead of evenly chopped nuts. For the best results, use a sharp, serrated chopping knife on macadamia nuts.
Step 1
Lay a clean kitchen towel over your cutting board to keep the round macadamia nuts from bouncing off the surface when you begin to chop.
Step 2
Sprinkle the macadamia nuts with a pinch of flour, sugar or salt before chopping. Use flour or salt if preparing the nuts for a savory dish and sugar if preparing them for a dessert. Macadamia nuts contain a generous amount of nut oil, a sprinkle of salt of sugar will absorb the oil as you chop and help protect your knife and the nuts from gumming up while you work.
Step 3
Gather up the nuts in a circle that is no wider than the length of your knife blade. Hold your knife at a 45 degree angle to the cutting board with the tip at one edge of the circle.
Step 4
Keep the tip of the knife on the board and rock the knife blade back and forth over the circle of macadamia nuts. Gather up the pieces and repeat until they are at the preferred size and consistency.
Tip
Keep macadamia nuts in the refrigerator in an airtight container for the longest shelf life.
Warning
Because of their high content oil, macadamia nuts can turn rancid easily. Always taste a batch of macadamias before adding them to your recipe.