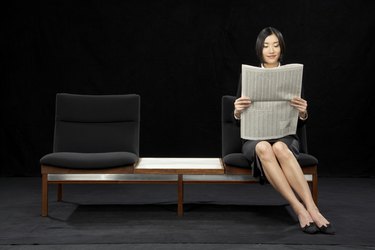 "Black and white" is a great theme for any occasion and doesn't have to be formal. You may make a shower, an anniversary party, a birthday celebration, a New Year's Eve gathering, an Oscar party or divorce party a monochromatic affair. Since it does sound formal, you need to use the style and wording of the invitation to convey the proper atmosphere.
Formal or Informal
The heading should be simple: "Black & White Anniversary Party." If the party is informal, you may want to write out the invitation with a white gel pen on black paper. If it is formal, have printed invitations on heavy card stock. Tell guests it is "black tie" or "creative black tie." Examples include "All-White or All-Black Attire Is Requested" for formal parties or "Please dress in any combination of black and white!" for an informal invitation.
Gifts, Food and Drinks
It is acceptable for occasions such as showers or birthday parties to write, "Please consider black and white for any gifts." Let guests know what kind of food and drinks will be served, particularly if the party is starting around or after dinnertime -- for example, "Light champagne brunch" or "Appetizers with white wine and white and black Russians."
Place, Date and Time
You don't need to be clever with the place, date or time. Just make it as clear as possible, such as "The home of Joan Smith. 1313 Mockingbird Lane, Paris, Texas. Friday, June 13. 8 p.m. – After Midnight. RSVP, regrets only." Then put your phone number, email address or both.