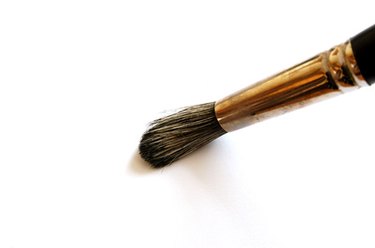 Canvas is a great material to paint or print on, as it is long-lasting and tough, but also looks striking and is a great backdrop to the image. It does have some flaws, however, with the main one being that canvas can fade, especially if constantly exposed to sunlight. Luckily, this problem can be solved by finishing the canvas print with lacquer.
Step 1
Ensure the canvas paint or print is completely dry. It may be wise to wait at least three days after painting, to ensure the paints have dried, or the lacquer may smudge them.
Step 2
Choose a lacquer type. The most common are brush-on lacquer, and spray-on lacquer. Brush lacquer tends to be thicker, and dries slightly slower to allow you to ensure an even application. Spray-on lacquer is thinner, and dries instantly.
Step 3
Place the canvas in a well-ventilated area, on a surface which can be washed.
Step 4
Apply the lacquer. Start in the top corner, and work across and down. Work as fast as you can, and spread the lacquer as evenly as possible if using a brush.
Step 5
Allow the lacquer to dry. This could take up to 48 hours, depending on the lacquer manufacturer. Do not touch the lacquer during this time, or you may create dents in the coverage.
Step 6
Apply a second coating if necessary. Most spray lacquers recommend this. Work from the same corner, and watch out for any uneven spots you wish to correct.
Step 7
Allow the lacquer to dry again.