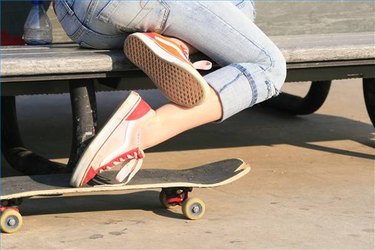 Vans sneakers are comfortable, casual shoes worn by men and women of all ages. Typically made of canvas, they require some care to maintain their sharp, fashionable appearance. With a small amount of time and effort, you can ensure your Vans sneakers will look great for as long as you wear them.
Things You'll Need
Vans sneakers

Toothbrush

Mild Soap

Clean cloths
Step 1
Remove the laces. Soak them in a mixture of warm water and a mild soap such as dishwashing detergent.
Step 2
Brush away loose dirt with the toothbrush. Brush the canvas surface of the sneakers and the exposed sides of the soles.
Step 3
Mix mild soap, such as a dishwashing detergent, and warm water. Dip a clean cloth in the soap solution and scrub shoes with the wet cloth.
Step 4
Wipe clean with clean, dry cloth. Ensure the shoes are clean of any soapy residue.
Step 5
Allow the shoes to completely dry.
Tip
If your laces are white and especially dirty, soaking them in a mixture of warm water and small amount of bleach will help restore their original color.
Warning
Don't wash your Vans sneakers in a washing machine or dryer. This will break down the shoe materials and result in more wear and tear.