Black seed is an herb used in natural remedies for both internal and external conditions. Black seed soap helps relieve skin irritations and is known to help clear up skin issues that result in pimples and breakouts. While black seed soap is available for purchase through online sites and some specialty stores, you can make your own black seed soap at home. Doing so allows you to add your own fragrance to personalize the soap or leave it unscented, if you prefer.
Things You'll Need
2 Tbsp. Honey

2 Tbsp. Beeswax

2 Tbsp. Castor Oil

Pot

Spoon

Soap Molds

3/8 Cup Grape Seed Oil

2 Tbsp. Black Seed Oil

2 Cups Olive Oil

6 Drops Fragrant Essential Oil (Optional)

1 Bar Mild White Soap, Grated
Step 1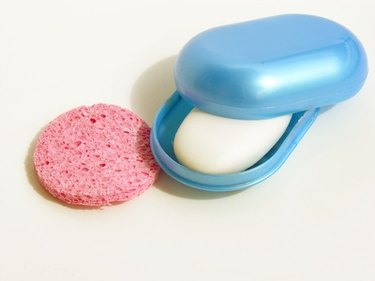 Melt one bar of grated white soap in a pot with 1/8 cup of water to aid the melting process. Increase the water to 1/4 cup if you want a softer soap. Use an organic soap or one made for sensitive skin.
Step 2
Mix in two cups of olive oil, 3/8 cups of grape seed oil and two tbsp. each of castor oil, beeswax, honey and black seed oil. Stir the mixture constantly, then add six drops of a fragrant essential oil if you would like a scented soap.
Step 3
Spoon the soap mixture into soap molds and allow them to cool and cure on the counter for several hours or overnight.
Step 4
Pop out the soap from the soap molds and store in a cool location until use.
Tip
Use lavender essential oil for a calming fragrance. Use grapefruit essential oil for a soap that's more energizing.
Make black seed soap without the bar of mild white soap for a liquid soap.