Things You'll Need
4 oz. unscented glycerin soap base

Microwave safe container

1 tsp. grated beeswax

10 drops lavender essential oil

Purple soap dye

Soap mold

Rubbing alcohol

Spray bottle

Sealed plastic bags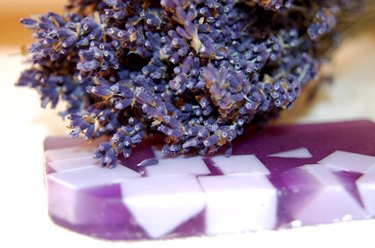 Glycerin soap base does not require as much time and expertise to make when compared to other soap bases, such as lye. The scent of lavender helps to ease the mind and it relieves stress. Lavender-scented soap helps you to relax, while the glycerin soap base helps to relieve dry and itchy skin.
Step 1
Cut 4 oz. of unscented glycerin melt-and-pour soap base into small pieces no larger than 1 inch.
Step 2
Place the glycerin soap into a microwave safe container. Microwave the soap for one minute.
Step 3
Stir the glycerin soap. If chunks are present, microwave the soap in 30-second intervals. Stir the soap each time until it melts completely.
Step 4
Add the 1 tsp. of grated beeswax. Stir until it dissolves into the melted glycerin.
Step 5
Add 10 drops of lavender essential oil. Add three to four drops of purple soap dye if desired. Stir to mix the essential oil and dye into the melted soap.
Step 6
Pour the soap into a soap mold. Pour rubbing alcohol into a spray bottle and spray the top of the soap to prevent bubbles from forming.
Step 7
Allow the soap to cool overnight completely. Remove the lavender soap from the molds and store them in sealed plastic bags to prevent them from attracting moisture.