Things You'll Need
For dressing

4 oz. feta cheese

3 oz. herb-flavored cream cheese

1/2 cup mayonnaise

1/2 cup light cream

For flatbread

1 large store-bought pizza crust

1/3 cup walnuts

2 sliced Bartlett pears

1/2 cup feta cheese

2 tsps. white balsamic vinegar

2 tsps. chopped fresh sage

2 tsps. olive oil

Pinch of fresh ground pepper

Food processor with whipping attachment

Nonstick spray

Large spoon

Small bowl

Large, round baking pan

Large skillet

Small skillet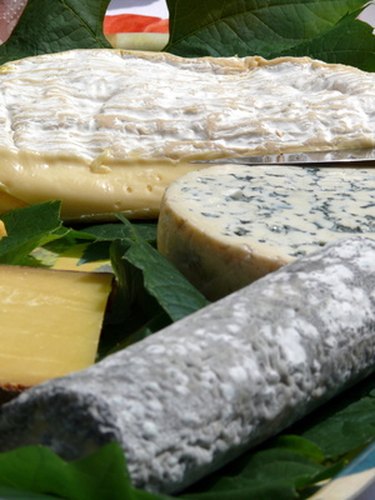 Blue cheese is considered somewhat of a luxury ingredient in many dishes. It can be found in everything from pizza to salad dressing. To some people it is a delicacy, but to others its sharp, powerful flavor is not appetizing. If you are one of those people, you should know that there is a substitute that works well in most blue cheese recipes: feta cheese. Feta cheese is a much milder, soft cheese similar to blue cheese in texture, but without the blue veins.
Feta Salad Dressing
Step 1
Set aside 1/3 cup of the feta cheese. Place cream cheese and remaining feta cheese into the food processor. Blend on low speed for 30 seconds until well-blended.
Step 2
Add mayonnaise and cream to the food processor. Blend again on medium speed until creamy and smooth.
Step 3
Transfer the dressing to a small bowl. Add the reserved feta cheese and stir it in with a spoon. Cover the bowl and chill in the refrigerator for 3 hours to blend flavors.
Feta Flatbread
Step 1
Place an oven rack in the lowest position in the oven and preheat an to 450 degrees Fahrenheit. Spray the baking sheet with a thin layer of nonstick spray. Place the pizza dough on the baking sheet and bake it for 6 minutes.
Step 2
Place the oil in the large skillet over medium heat. Saute the onion until browning begins, about 6 minutes. Lower the heat, cover the pan and cook the onions, stirring occasionally, for an additional 5 to 8 minutes, until very soft and golden brown.
Step 3
Toast the walnuts in the small, dry skillet over medium heat, stirring once, until browned and fragrant, about 1 to 2 minutes.
Step 4
Mix together vinegar, sage and pepper with the onions in the skillet. Spread the onion mixture onto the crust. Top with the sliced pears and cheese.
Step 5
Bake the crust on the bottom rack of the oven until crisp and the cheese is bubbly, about 10 to 12 minutes. Slice the pizza after cooling slightly and serve.
Tip
Feta can be substituted for blue cheese in other recipes. It can be used atop steaks, tossed in a salad or used in pasta.