Things You'll Need
6 inch by 12 inch silk rectangle

Silk straight pins

Sewing machine with silk needle

Hand sewing silk needle

Iron

Pressing cloth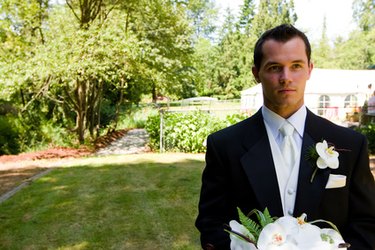 Wearing a pocket handkerchief is a way to dress up a suit jacket with a touch of color, but folding one can be time consuming. You can make a man's fake pocket handkerchief to dress up your suit, and you will not have to spend time folding the fake pocket handkerchief. If you make the fake pocket handkerchief from silky fabric, it will look like a real pocket handkerchief. You just will not be able to use it as a handkerchief.
Step 1
Fold the corners of the silk in 1/2 inch on the diagonal and pin them with straight pins. Fold the raw edge of the silk rectangle under 1/4 inch, then fold the edge a second time. Move the corner pins if necessary to make the side folds even. Pin the edge every 2 inches. The pins need to be close because the slippery silk will unfold easily.
Step 2
Sew around the folded hem, close to the inner fold, about 1/16 of an inch so the needle is just catching the folded hem. Use a short, straight stitch.
Step 3
Iron the silk by placing the pressing cloth over it and pressing an iron set to the low heat setting over the cloth.
Step 4
Fold the rectangle in three times, and slip it into the jacket pocket. If the handkerchief is too small, open the folds out a little. If it is too big, fold it in tighter.
Step 5
Remove the folded handkerchief from the pocket when you get the fold right, and hand sew the folds shut. Start at the bottom corner, and sew 4 inches up the outer hemmed edge, careful not to poke the needle through the top layer enough to make the hand sewing visible.
Step 6
Position the fake handkerchief the way it will go into the pocket, and iron it again to set the shape and remove wrinkles. Use the pressing cloth and keep the iron on the low heat silk setting.