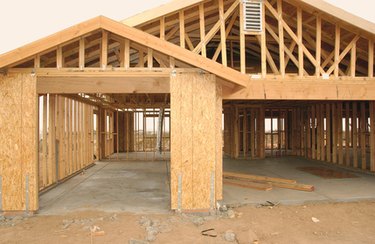 Before beginning any home improvement project, it's important to have an idea of how much it's going to cost. But coming up with an accurate estimate can be challenging. Asking a licensed contractor to give you an estimate is one option, but when estimates very widely, it's hard to know who's giving you accurate information. However, there are a number of tools and resources available to help you get a good idea of how much a 30 foot by 40 foot garage might cost. As long as you know what materials you plan to use, finding the probable cost will be simple.
Step 1
Determine what materials you'll use and how much of the project you're willing to do yourself. If you're planning on applying for permits yourself or doing any of the construction work, this will save you significant labor costs. Using higher or lower grade materials will also factor into the final cost.
Step 2
Calculate the amount of material you'll need for a 30 by 40 garage. There are free online calculators available that will calculate lineal and board feet needed for walls or cubic yards of concrete needed for foundations.
Step 3
Call a building supply store or contracting supply company and ask what the cost will be for the raw materials like lumber and concrete for a 30 by 40 garage. Provide them with the numbers you calculated for how much material you'll need. They should easily be able to give you an accurate idea of how much the materials will cost.
Step 4
Contact contracting companies if you're planning on hiring someone to build. Since you already have an idea of what materials will cost, you need them to give you an estimate on the labor. This will most likely vary among companies, but you should be able to get a ballpark idea of how much it will cost by talking to several contractors. Ask to contact customers for whom the company performed similar jobs to see what other people were charged.