Things You'll Need
1 tbsp. baking soda

1/2 cup white vinegar

4 cups hot water

Sponge

1 tsp. clove oil

4 cups water

Spray bottle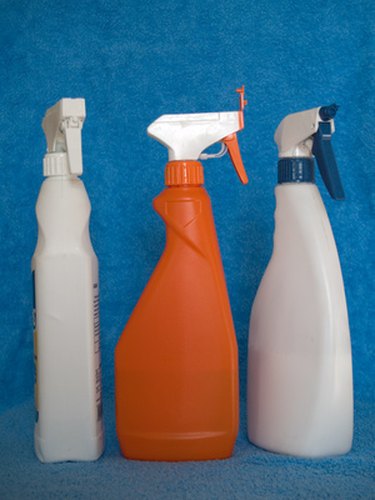 Clove oil is a natural antiseptic which kills mold and can be used as an alternative to cleaning with harsh chemicals. Clove oil can be purchased over the counter at pharmacies—where it is often sold to treat toothaches—or in the aromatherapy section of a natural food or health store. When used with other common alternative cleaning products, it makes an effective cleaner for bathrooms and other spaces where mold can be found.
Rid Your Home of Mold
Step 1
Mix 1 tbsp. baking soda with 1/2 cup white vinegar and 4 cups of hot water. Using a sponge, scrub the problem area to get an initial cleansing started.
Step 2
Mix 1 tsp. of clove oil with 4 cups of water. Pour solution into a spray bottle and lightly spray the area where mold is growing. Scrub away mold with a sponge or toothbrush—and rinse with water.
Step 3
Spray the area with a light coating of clove oil mix and leave on surface to inhibit further mold growth.
Tip
Tea tree oil works in a similar fashion to clove oil, and can also be sprayed on shower walls during regular cleaning to inhibit mold and bacteria from growing.
Rinsing your shower walls and glass with a quick splash of cold water after each use can make your bathroom stay soap scum and mold-free for longer between cleanings.
Warning
Clove oil is not recommended for use by pregnant women or by those with liver or kidney disease. It is a powerful antiseptic and can cause skin irritation when not diluted, so handle this product with care.