Vans sneakers serve as a timeless fashion statement. These casual sneakers come in both canvas and suede styles with rubber bottoms. Suede sneakers can be much harder to clean than canvas as water can damage suede while leaving canvas unfazed. Use a gentle touch with your suede Vans and avoid wearing them every day in order to keep them in the best shape. Vans sneakers can be treated like most other suede sneakers and require the same careful cleaning techniques.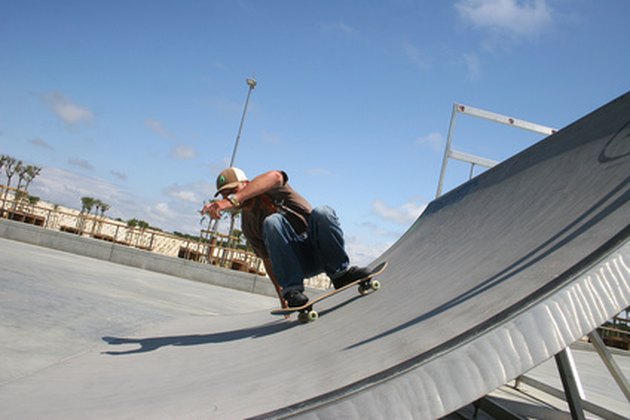 Things You'll Need
Suede brush

White vinegar

Rags

Toothbrush

Rubber eraser

Mild soap or laundry detergent

Paper towels

Carpet cleaner
Step 1
Brush off dirt using a suede brush. Allow any dirt or mud to dry before attempting to clean your shoes or you may simply brush the wet dirt around your shoes, making the problem worse.
Step 2
Use white vinegar to lighten dark stains. Dip a rag in a mixture of equal parts white vinegar and water and gently rub the rag into the fabric. Gently scrub with a toothbrush to further remove the stain.
Step 3
Use a rubber eraser to remove dark stains. Using a light touch, rub the eraser onto the suede. This should remove the top layer of fabric from your Vans sneakers. Be careful not to remove too much fabric. However, you can use the eraser vigorously on the rubber lining of the sneakers.
Step 4
Clean the rubber bottoms of your sneakers using a toothbrush and a mild soap or laundry detergent. Dip the toothbrush in the detergent and rub it along the rubber parts of the sneakers. Wipe clean with a clean cloth or paper towel.
Step 5
Use carpet cleaner for tough stains. Spray a small amount of cleaner onto the stains and scrub the stain with a toothbrush. Wipe the spray off the sneakers using a clean rag.
Tip
Consider treating your shoes with a water-proofing spray if you live in an area with frequent rain or snow.