Things You'll Need
Design chart

Plastic canvas

Felt tip marking pen

Sharp scissors

Hot glue gun

Damp cloth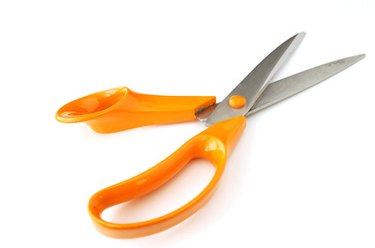 Plastic canvas can easily be cut into any shape or pattern with a pair of sharp scissors. Unlike needlepoint canvas, which has threads that unravel and distort, plastic canvas has rigid vertical and horizontal bars that hold their shape when cut and are neatly finished with a simple overcast stitch. Plastic canvas is most commonly used for making three-dimensional projects like keepsake boxes, picture frames and tote bags, as well as quick projects like coasters, ornaments and luggage tags.
Step 1
Transfer the needlepoint pattern by counting the number of squares in the design chart and matching them to the holes in the plastic canvas. Draw an outline on the canvas as you count, marking each hole until the canvas outline looks like the design chart. Transfer any interior details that are needed for stitch definition.
Step 2
Cut out the plastic canvas outline with sharp scissors to make a master pattern. To get a neat finished edge, cut all corners diagonally and trim as close as possible to the canvas bars without tearing. If you do accidentally tear the plastic canvas while cutting, glue the damaged bars with a hot glue gun.
Step 3
Place the master pattern on top of additional plastic canvas sheets to make pattern repeats. Trace and cut out the shapes, carefully snipping any nubs on the edges to keep yarns from snagging.
Step 4
Remove all marked lines with a damp cloth before stitching. If you used a permanent waterproof marker, increase the number of thread strands when working over marked lines to keep them from showing through the stitches.
Step 5
Work the project, using the original design chart for proper stitch placement and color changes. Leave one bar unstitched all around the design to use for joining pieces together and finishing edges.