Things You'll Need
Poultry lifters

Large serving platter

Carving knife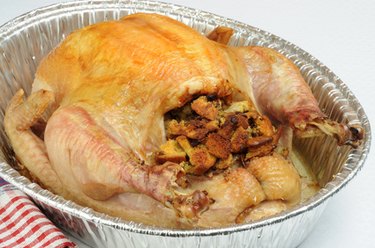 The Turducken, a traditional Southern dish, is quickly finding itself center stage on many holiday feast tables across the United States. This creation is a semi-boneless turkey stuffed with a whole boneless duck, which is stuffed with a whole boneless chicken. Stuffing rests in between each layer of meat. When it comes to carving a Turducken, the goal is to be sure you highlight the visual aspect of the different layers, creating a feast for the eyes as well as the stomach.
Step 1
Remove Turducken from the oven and let it sit in the cooking pan for 20 to 30 minutes before carving it. This will allow the juices to redistribute throughout the roast, making it tender and moist, as well as easier to carve.
Step 2
Transfer Turducken to a large serving platter using poultry lifters or two serving forks. Be sure to support the wings and legs of the roast to ensure it does not fall apart.
Step 3
Remove the trussing twine and discard. Gently carve off the two legs and two wings. Set these aside on your serving platter or on a separate plate altogether.
Step 4
Slice the Turducken in half, lengthwise, with the carving knife. Then carve 3/4-inch slices perpendicular to the mid-line cut. Carve the entire half into slices at once.
Step 5
Arrange slices on the serving platter so everyone can clearly see the the different layers of the Turducken. Serve while still warm.
Tip
An electric carving knife works best, but any good carving knife will do. Before you begin carving the Turducken, be sure to show your guests the roast in its entirety. This will add to the experience of the dish. Place any extra stuffing that may fall out during the carving process into serving bowls and place on your table.
Warning
Be sure to take extra caution while carving the Turducken, as the steam that comes out is extremely hot and can burn you.