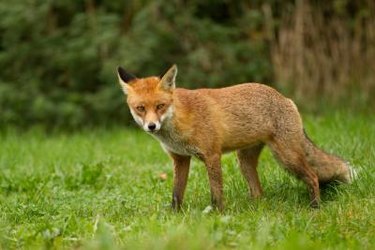 Foxes can be a frustrating nuisance, whether you are trying to protect a garden, livestock or your backyard from their presence. Fortunately, there are many homemade fox repellent and deterrent options that can not only keep foxes away but prevent new ones from moving in without posing a danger to the fox or your pets.
Foxes have a powerful sense of smell, which is why one of the best ways to keep them away is to make a homemade fox repellent. One of the most common ingredients in fox repellents is chili pepper. Especially common in coyote repellent, hot peppers contain a chemical compound called capsaicin, which gives the pepper its spicy quality and can irritate animals with a heightened sense of smell.
To create a homemade fox repellent using capsaicin, fill a spray bottle with a mixture of chili or cayenne powder and water. Spray the solution on the garden and around possible fox access points. White vinegar is another popular fox repellent because of its strong and potent smell. A spray of white vinegar around the property can help repel foxes.
Another homemade fox repellent option is to combine the chili powder with white vinegar and a few garlic cloves. For a more pungent garlic smell, cut and boil the cloves. This boiling will create a strong scent that should deter foxes when sprayed around the property. Remember that rain will wash away any solution you spray, so be sure to reapply when needed.
In addition to repellents, there are several fox deterrents that you can try to make your property unwelcoming to foxes without causing harm. Sometimes, the best method is to startle foxes so that they don't want to return. One of the ways you can do this is with a motion-activated sprinkler. These sprinkler systems are designed to switch on when the battery-operated motion sensor detects movement, startling the nearby animals. These systems are usually easy to install, but you'll need a garden hose to supply the water.
An ultrasonic fox deterrent is another option. By placing one near the fox's access point, the device releases a high-pitched noise that only animals can hear, and it deters wildlife from approaching the property. However, experts recommend avoiding these solutions if you have pets or other animals.
Outdoor lights can also deter foxes from entering the property. Motion-activated outdoor lights that switch on when a fox approaches are a good solution. Because foxes generally prefer the dark, this light will often startle them and cause them to run away.
Foxes look for consistent food sources, which is why they frequent chicken coops, gardens and any storage shed housing food. Because many types of wildlife can be the culprit, the smell is the best way to verify that the damage is due to fox activity. Foxes leave behind a strong ammonia smell to mark their territory. Once you have verified fox activity, the first course of action is to secure the food sources. Repair any broken doors or fencing, store your garbage and compost in secure, airtight containers and install fencing where needed.
If you have a chicken coop or other small animals on your property, be sure to lock their doors at night and close any holes or gaps through which the fox can squeeze. When hunting, foxes also like to hide in brush and woodpiles, so clearing these hiding spots will make your property a less attractive hunting ground.