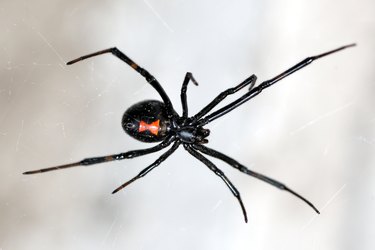 Few things can send a jolt of panic like the sight of a fat black spider with a red hourglass on the abdomen. Although the black widow spider bite isn't generally fatal, these spiders are extremely venomous. While you won't often see these reclusive spiders, it is important to know what to do when you encounter a black widow spider. Spiders may play an important role in your habitat, but you need to get them out of your home to keep your family safe.
Identify black widow infestation signs
Black widows will often retreat unless they feel threatened. However, even if you don't see the spiders, you may encounter a black spider web. The webs don't have the beautiful, clean design that some other spiders create. Instead, they tend to be wispy and messy. The spiders use the webs to capture prey and to protect their eggs.
Female black widows are the ones with distinctive markings that make them easily recognizable. Males are too small to pose a danger to humans, as they aren't able to break through the skin to inject venom into humans.
Since black widow spiders are extremely venomous, it is important to know what to do if you find a black widow spider in your house. These spiders aren't generally aggressive and could even be described as shy; however, they will bite if you get near their webs, especially if there is a black widow egg sac.
The best option is to contact a local pest control company so that they can come in and rid your home of black widows. You can purchase an insect killer spray from your local home store, but a professional will be able to identify and treat any black widow hiding spots and habitats.
Clean up black widow spider hiding spots
Black widows hide in dark, cluttered spaces. You are likely to find them in rooms like your basement, attic or garage. Keep your home as clutter-free as possible. Sweep and vacuum frequently to remove any spider webs.
Seal your home to keep out spiders
Many pests, including black widow spiders, can enter your home through gaps around your windows and doors and other cracks in the house. You can seal these yourself with caulk or spray foam. Use weatherstripping around windows and doors. This will keep more spiders from coming in and have the added benefit of stopping drafts.
Clean the areas outside your home
Keep spiders away from your home. If you have firewood, keep it in a shed away from your home's foundation. Keep other yard debris and clutter away from the house. Mow your lawn regularly and keep the yard free of weeds.
Safety considerations when managing black widow infestations
You can kill the spider if you choose but be aware of the risks of being bitten. Use a shoe or broom or vacuum to remove the spider so that you keep your bare skin a safe distance away. When cleaning up your home and yard, be sure to wear closed-toe shoes and gloves to prevent an accidental bite.
If you do get bitten, it is important to seek medical attention right away. A black widow bite can cause symptoms such as muscle ache, difficulty breathing and nausea. Bites are rarely fatal for healthy adults, but some people are more susceptible to a serious reaction, including children and the elderly.