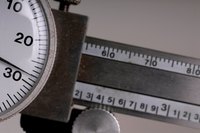 A dial caliper is a versatile measuring tool that you can use to take several different physical measurements. Measuring outer and inner dimensions as well as step or hole depths is possible to an accuracy of within one-thousandth of an inch. The dials on dial calipers can move if the locking screw holding the dial in place is loosened or if the instrument is jarred. Resetting the dial on a Mitutoyo dial caliper can possibly restore accuracy to the tool if inaccurate readings are being obtained.
Firmly close the jaws of the Mitutoyo dial caliper.
Loosen the locking screw located underneath the dial of the caliper.

Rotate the now-loosened dial so that the pointer lines up directly with the "0" marking on the dial face.
Check the accuracy of the tool with a calibrated standard. If you use a 1-inch standard, the Mitutoyo dial caliper should be accurate to within one-thousandth of 1 inch, or from 0.999 to 1.001 inches.