Things You'll Need
2 wire coat hangers

Pliers

2 heavy-duty tarps with rust-resistant grommets (5 feet by 7 feet or larger)

8 bungee cords with hook ends (6 inches long)

4 tent stakes

Hammer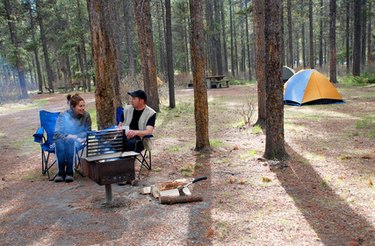 A temporary shower enclosure can be set up and taken down in a matter of minutes using a few camping supplies that you may already have. The purpose of a temporary shower enclosure is to provide privacy to the person who is showering in a semi-contained environment. Durable waterproof tarps are the perfect material to create temporary walls for the shower stall. Give campers a place to enjoy a little alone time in the shower by making them a temporary enclosure.
Step 1
Take apart two wire coat hangers with a pair of pliers and bend them to form two halves of a large circle.
Step 2
Run each half of the wire circle through the grommets on one of the long sides of each tarp. Curl the last inch of the wire around the corner grommets at both ends to keep the tarp from sliding off.
Step 3
Hang one of the half-circle wires from a tree branch so that the tarp is at least 18 inches off the ground using two of the bungee hooks. Hang the second half-circle wire at the same height so the ends of the wire meet with the ends of the first wire to form a complete circle.
Step 4
Drive two tent stakes into the ground below the corner grommets of each of the two tarps.
Step 5
Connect the tarp to the tent stakes with the remaining four bungee cords.
Tip
The solar shower bag can be hung in the middle of the temporary shower enclosure and allowed to heat up during the sunny part of the day.
Warning
The ground area below the temporary shower enclosure may get slick and slippery when you begin taking a shower. Wear flip-flops or sandals with a textured tread to prevent falls.