Things You'll Need
Plywood sheets

Shims

Level

Screws

Drill

Silicone-caulk adhesive

Clamps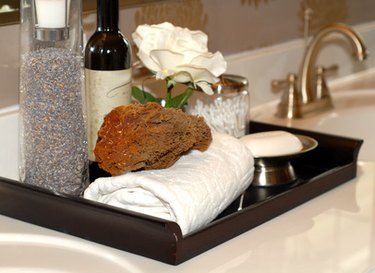 Corian solid surface material is manufactured by Dupont. Because Corian is a solid surface, it is easy to clean and the material is non-porous so stains will not soak into it. Corian is a good investment. It will last for a long time and will keep your kitchen safe and clean. Save yourself some money by ordering the counter to match your cabinet dimensions and installing the Corian yourself. Complicated cuts for sinks and cook tops should be handled by a professional, but you can perform the glue-down installation yourself.
Step 1
Measure your cabinet width and length. Cut a sheet of 3/4-inch plywood with a circular saw to match the dimensions of the cabinets. Place the plywood on top of the cabinets.
Step 2
Place a level on the top of the plywood. Slide shims between the plywood and the cabinet until the counter is perfectly level.
Step 3
Drive deck screws through the top of the plywood into the cabinet frame. Insert a deck screw every 6 to 8 inches to firmly secure the top to the cabinets.
Step 4
Pull the sink template out of the packaging that came with the sink. Lay it on the plywood and trace around it with a pencil. Cut the space with a jigsaw. Repeat with any other necessary cutouts.
Step 5
Run a bead of silicone-caulk adhesive along the top of the plywood with a caulk gun. Apply adhesive along the edges of the counter as well as the middle.
Step 6
Set the Corian onto the plywood. Shift the Corian until it is appropriately placed on top of the plywood so that the holes in the Corian line up with the cutouts in the plywood and the. Make any adjustments to the Corian placement before the adhesive has time to set.
Step 7
Secure the Corian to the plywood with clamps to keep it from shifting until the adhesive has time to dry. Let the adhesive set overnight.
Step 8
Apply clear silicone along the seams of the Corian where it meets the wall. Remove the excess with your finger. Let the adhesive and silicone dry overnight. Remove the clamps.