Things You'll Need
Gloves

Respirator mask

Goggles

Glass bowl

Wood stirring tool

Polyester resin

Methyl ethyl ketone peroxide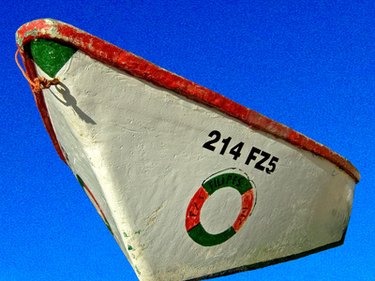 Fiberglass projects, like building fiberglass cars or boats, require a special resin that works like glue for the sheets of woven fiberglass, bonding the fiberglass to the surface. This paste is primarily made of polyester mixed with a special hardening catalyst. You must make this resin yourself exactly when you need it for your project, as the resin has a short shelf life before it hardens. Resin kits can be found with the needed components to mix together, but you may also get them individually and combine them yourself.
Step 1
Dress in long sleeves, gloves, goggles and a protective breathing mask, as the components you are working with are highly toxic. Set up your components in a well-ventilated area.
Step 2
Pour polyester resin, which often comes in cans or other containers similar to paint, into a tin can, glass bowl or other container sturdy enough to handle this substance.
Step 3
Add a small amount of methyl ethyl ketone peroxide to the resin to act as a catalyst. One gallon of resin requires 1 oz. of catalyst, or 1/8 oz. for 1 pint of resin.
Step 4
Stir the two components together using a wooden stirring tool, like a paint stirrer. Stir the mixture thoroughly by gently, making sure you mix the resin at the bottom of the container. The resin is mixed when it has the thickness of toothpaste (not toothpaste gel).
Step 5
Add and mix in any extra components depending on the exact type of resin you are creating. This can include polyester color paste to give color to the resin and wax powder to add a polished look to the resin once applied.
Step 6
Apply the resin to the surface of your craft project, brushing the resin over each sheet of fiberglass you lay on the surface. Apply about 3 oz. of resin on each square foot. You at most 20 minutes to apply the resin before it begins hardening.
Warning
The resin is highly flammable.