Things You'll Need
1/2-inch black pipe 4-inches long

Flat file

Bench vise

Cloth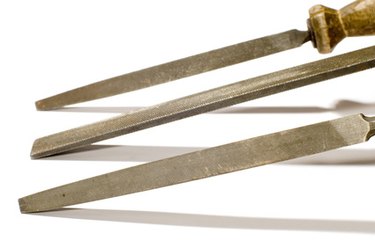 A homemade hole punch is used to punch holes in paper, card stock, cardboard, foam, gasket sheeting and fabric. A sharp edge is required to make a clean sharp cut. A piece of black pipe works extremely well for a hole punch. Use an 1/8-inch, 1/4-inch, 1/2-inch or 3/4-inch piece of black pipe two inches long to make a hole punch. Larger diameters of black pipe are available for purchase if the diameter of the required hole is larger than 3/4-inches.
Step 1
Position a 4-inch piece of 1/2-inch diameter black pipe on the outside edge of the bench vise. Secure the black pipe so it is on a true horizontal.
Step 2
Use a flat file and bevel the edge of the pipe. Push the file away from the pipe at a 25-degree angle.
Step 3
Reposition the pipe as needed to create a 25-degree bevel around the circumference of the pipe. File until the round edge is razor sharp.
Step 4
Remove the pipe from the bench vise. Wipe the entire surface to remove any metal shavings.
Tip
Cut the black pipe to any length desired.