Things You'll Need
Screwdriver, wrench or pliers

Pipe cutter

Sharpening stone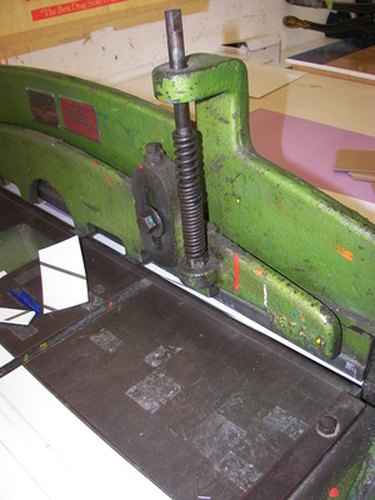 Pipe cutters use strong, sharp blades and leverage to slice through pipes of various materials. These tools cut pipes made of materials such as PVC, copper, steel and cast iron. The blades of pipe cutters can be easily sharpened by using a sharpening stone that can be purchased from most hardware stores or online where blades and pipe cutters are sold.
Step 1
Use your screwdriver, wrench or pliers to remove screws and fasteners that hold the pipe cutting blade to the pipe cutter handle or body.
Step 2
Remove the blade, keeping the blade away from your body at all times.
Step 3
Take your sharpening stone in one hand or place it on a table or other flat surface. Another option is to secure the sharpening stone firmly with a bench vise.
Step 4
Hold the cutting end of the blade at a 45 degree angle and slide the blade toward you. Repeat this motion until the blade appears sharpened and shiny.
Step 5
Replace the blade on the cutter with screwdriver, wrench or pliers.
Step 6
Slowly test the pipe cutter on a soft metal or PVC material to ensure the blade is properly secured and working effectively before applying full pressure and force.