Things You'll Need
Self pleating heading tape

Three-pronged pleat hooks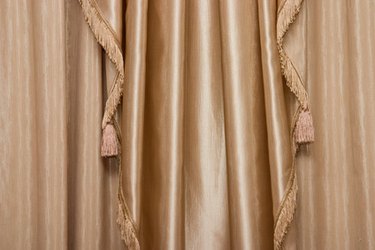 Draw drapes add charm and elegance to any room in your home. In addition to enhancing your décor, these window treatments also mask outdoor noise and help insulate your windows. By making them yourself, you can not only save money, but also have the exact style, color and texture you have in mind. All it takes is simple sewing skills and a little planning to create functional, affordable draw drape window coverings.
Step 1
Choose a fabric and measure its width on the bolt. Multiply this measurement by two. Measure any repeats in the design. A repeat is the distance between the top of a design pattern to the spot where that pattern starts again or repeats. Record these measurements down for later use.
Step 2
Mount your rod above the window before you start making your draw drapes so that your measurements are exact.
Step 3
Measure the length of the rod, including the length of the return (the part of the rod that connects from the front of the rod to the wall) to determine the finished width of the window treatment.
Step 4
Measure from the top of the rod to the floor to determine the finished length of the drapes.
Step 5
Calculate how much material to purchase using the finished width, the finished length, the fabric width and the pattern repeat measurements.
Step 6
Multiply the number of pleats by the width of each pleat to calculate the number of panels needed. Add this number to the finished width of the draw drape plus 12 inches for seam allowances, side hems and center overlap. Cut the fabric panels equal to the finished length plus six inches for the heading and hem allowance.
Step 7
Sew the panels of fabric together with a 1/2-inch seam allowance and a straight stitch. Pin and stitch two-inch hems on each side of the drapes. Press the seams and hems.
Step 8
Sew the heading tape to the top of each section, leaving enough extra on the ends to turn under for a finished look. Turn the tape to the back side of the drapes and stitch along the bottom. Press to set the heading in place.
Step 9
Measure the finished length of the window coverings and pin the lower hem. Stitch a two- to three-inch hem and press.
Step 10
Insert one three-pronged hook for each pleat into the heading tape and hang your new draw drapes on the curtain rod.