Things You'll Need
Dishwashing soap

Bucket

Sponge

Screeds

Drill

Masonry drill bit

Screws

Spray bottle

Portland cement

Fine sand

Lime

Trowel

Float

Finish coat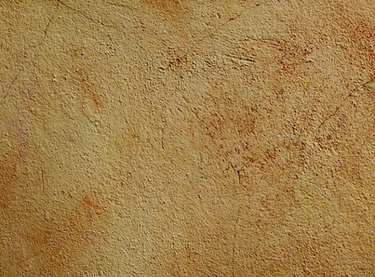 An interior brick wall can be a focal point in your home, or it can just as easily be an eyesore. Old, crumbling or discolored brick can cause dust problems, clash with your paint and furniture, and be generally unappealing. You can cover up unattractive brick with drywall, or wood panels. Alternatively, a careful application of plaster can cover and refinish the wall. Your wall will be smooth and ready for paint or wallpaper.
Step 1
Mix 2 tbsp. of dishwashing soap with warm water. Dip a sponge into the mixture and scrub the wall to remove all grease and grime. Dry the wall with a clean towel.
Step 2
Install a 3/8-inch screed at the top and bottom of the wall. This will guide your plaster application, making it smooth. Drill the screeds into the wall with a drill and a masonry drill bit.
Step 3
Mix one part Portland cement, four parts fine sand and one part lime. Stir in water slowly until the plaster is the consistency of peanut butter. One cubic foot of plaster will cover roughly 17 square feet of brick. Mix enough plaster for the entire wall.
Step 4
Fill a spray bottle with water. Spray the wall to dampen the brick. Scoop out the plaster with a trowel and spread 3/8 inch of plaster onto the brick. Start with the trowel at a 45-degree angle and scrape the plaster onto the wall, ending with the trowel at a 30-degree angle. Continue across the wall until you've covered the space.
Step 5
Let the plaster dry slightly. While it's still mostly damp, take a straight edge piece of lumber or pipe and run it across the plaster from one screed to the next, smoothing the plaster across the wall. Remove the screeds carefully without disturbing the plaster.
Step 6
Run a mason's float over the top of the plaster to compact and smooth the surface. Let the plaster dry completely.
Step 7
Mix a batch of plaster half the volume of the previous batch. Apply a second coat of plaster. Use the trowel to apply ¼ inch of plaster to the top of the base coat. Smooth with a float. Let the plaster dry.
Step 8
Apply a finish coat to your plaster. Finish coats are available from smooth to fine texture. Follow the mixing instructions specific to your chosen finish. Smooth the texture onto the wall with a mason's float. Allow the finish coat to dry.