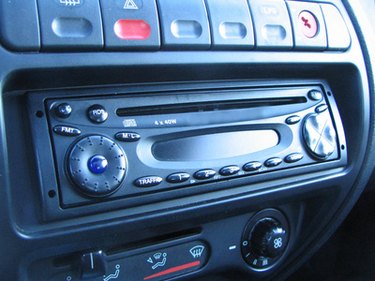 The Dodge Caravan is known for its family-oriented design. Having a working radio or an aftermarket system in your Dodge Caravan can make those long car rides more bearable. The first step for replacing any radio is removing the old unit. The radio in the Dodge Caravan is secured by two bolts that are hidden behind a decorative console panel. Once the panel is removed, the radio can be taken out quickly.
Step 1
Pull out the storage slot in the middle of the dash by hand. Pull out the cupholder which snaps into place.
Step 2
Remove the two screws under the storage slot removed in Step 1 with a Phillips head screwdriver. These are the two bottom mounting screws for the radio.
Step 3
Unsnap the decorative panel and set it aside.
Step 4
Unscrew the top bolts holding the radio in place.
Step 5
Pull the radio out of the slot to access the wiring in the back. Disconnect the wiring harness by pulling the locking tabs out and pulling it away from the radio.
Step 6
Pull the antenna wire out of the back of the radio. Place the radio to the side.