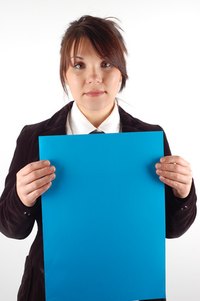 A poster board can be an extremely effective presentation tool, and making your own poster board is a great way to maximize your creative potential while saving yourself time and money. A great poster board can be made easily using basic household materials and a short amount of time. Being able to make your own poster board and other presentation materials can be very helpful when placed in situations where you must give a presentation with little time to prepare or purchase materials.
Things You'll Need
Cardboard box
Butcher, wrapping or another heavy paper
Choose a section of the cardboard box to use as your poster board, preferably one without creases or excess labeling. The ideal section would contain no writing at all, just completely neutral cardboard on both sides.
Break down the cardboard box so that it is completely flat by separating the small, glued interior flap that holds the sides of the box together. Use scissors if necessary to break the bond between the cardboard sides.
Draw the outline of your poster board--fulfilling the size you need--on the section of the cardboard box that you have chosen.
Cut out the form of the poster board using scissors. If you have a utility knife handy, this can provide a straighter cut, but scissors will work well if necessary. Remove the excess cardboard, saving any sections you can for additional poster boards.
Cover the presentation surface of the cardboard with butcher paper or wrapping paper. If you wish to have a blank white surface, you can use the reverse side of any wrapping paper pattern. Wrap a few inches of excess paper around to the back of the poster board around all of the edges.
Attach the paper to the poster board by stapling it at the edges so that it is secured on both sides of the board. A classy alternative to staples is to secure it with brads that poke through and are flattened on the back side.