Things You'll Need
Drop cloth

Ladder

Masking tape

Paint scraper

Small flat bristle brush

Heavyweight common head screwdriver

1 gallon mold inhibiting undercoat primer

1 gallon mold inhibiting high gloss finish paint

Paint tray and roller

Paintbrush, 2-inch feathered tip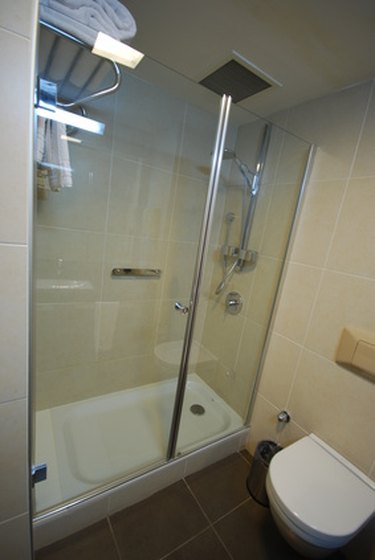 The walls and ceiling of any bathroom require more attention than the walls and ceilings of other rooms. The daily and frequent use of the room encourages and permits the build up of humidity and water. The humidity and water will also do long term damage if the room is not ventilated well. For a sheetrock bathroom ceiling with a skim coat of plaster the problem of long term damage will be exacerbated. The paint industry has made a distinction between paints for rooms where mold is a problem and paint for other rooms. The bathroom is absolutely a room where these mold inhibiting paints are put to good use without distinction between the ceiling or walls.
Step 1
Collect the primer, paint and all of the associated tools up against the wall under the sink. Place the can of primer on its side and shake vigorously to renew the distribution of the contents. Use the edge of a heavy, common head screwdriver to pry the can open. Pour the paint tray half full of primer. Place the tray onto the open ladder tray. Scratch the new roller with wet fingers to remove factory lint. Protect areas you don't want painted with painter's tape.
Step 2
Ascend the ladder. Dip the roller into the primer. Begin to paint at the nearest corner with firm even rolls across the ceiling in a straight line back and forth. Achieve even distribution of primer. Use the paint brush to paint into each corner and in places that the roller cannot reach. Proceed around the entire surface of the ceiling in this manner, descending the ladder when necessary to relocate it and refill the tray. Wash the paint tray, the brush and the roller free of primer.
Step 3
Allow at least 48 hours for the primer to cure before applying the paint finish. Shake the can of paint vigorously. Open the can with the common head screwdriver. Again place the drop cloth and ladder into the bathtub. Pour paint into the clean paint tray and settle it onto the open ladder tray. Ascend the ladder with the clean roller. Follow the dip and roll process used with the primer across the entire surface of the ceiling. Use the paintbrush as needed again. Refill the paint tray as necessary.
Step 4
Bring the rubbish bin into the center of the room. Ascend the ladder with the closed box cutter in hand. Open the box cutter after ascending the ladder. Lightly score the paint seam at the edge of the tape. Remove all of the tape around the room's perimeter. Drop it into the rubbish bin below. Clean all of the tools again. Store each away for another project.
Tip
Plan to use another bathroom, if one is available, during the paint project to prohibit the splashing of water onto the freshly painted surfaces.