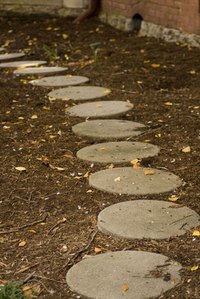 If you are planning to paint concrete stepping stones, consider these points. Because concrete stones are hard and nonporous, they are ill-suited for adhesion. In addition, if these stones are serving as a walkway, any new finish will be subjected to an inordinate amount of duress. Ordinary paints are not appropriate for stone and will ultimately chip and peel. You must select a particular type of paint, specifically formulated for exterior rock and stone.
Things You'll Need
Pressure washer
Heavy-duty fabric drop cloths
3- to 4-inch latex paintbrush
Patio paint
Patio spray paint
Work on a warm dry day, free from heavy winds.
Remove the stones and place them on a flat concrete surface, like a porch or driveway.
Clean the concrete stones using a pressure washer. Wait 2 to 3 hours for the stones to dry.
Cover areas surrounding the stones with heavy-duty fabric drop cloth.
Coat the clean stepping stones with patio paint using a paintbrush manufactured for use with water-based paints.
Wait 2 hours for the painted stones to dry. Add another coat if you have poor coverage.