Things You'll Need
Newspaper

Rubber gloves

Apron

Dry erase marker

8-inch lineman's pliers

Acrylic paint or Oil paint

Nail polish remover or Paint thinner

Metallic duct tape

Scissors

Cardboard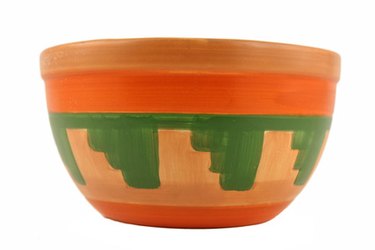 Paint pens are a great way to create art on anything, but can be expensive to purchase. The advantage of a paint pen is that you get to use just the right amount of paint on any project. You can create small, detailed art on wood furniture or personalize a leather jacket. To save money, you can make your own paint pen at home with just a few of supplies, allowing you to create a dynamic piece of art out of anything.
Step 1
Decide on the type of paint that will be used to fill your paint pen. The most common type of paint that is used is acrylic paint or oil paint. Acrylic paint is water based and can be used with nail polish remover to thin it out. Oil paint is heavier and sticky and is best diluted with paint thinner. Both types of paints adhere easily to any object or base.
Step 2
Lay newspaper on a table and place your tools on it. Put your rubber gloves and apron on, so you are protected from any spills. Remove the bottom cap from the dry erase marker with 8-inch lineman's pliers, by firmly twisting it right to left and tugging on it at the same time. Once removed, place the bottom cap in visible area, to use later.
Step 3
Remove the felt ink sponge from the inside of the maker and discard, as it will not be used. Pour the nail polish remover or paint thinner into the tube, filling it only 1/4 of the way. After that, slowly pour in your acrylic or oil paint and place the cap back on, tightly locking it.
Step 4
Cut a piece of metallic duct tape with your scissors and place it over the bottom cap, to prevent the cap from coming off or paint from spilling. Gently shake your pen to allow the paint and thinning solution to mix. Remove the top cap from pen and firmly press the tip of the pen, also known as the nib, on a piece of cardboard, to allow the paint to begin flowing. Place the cap back on once paint has seeped through the tip, and store your paint pen, top cap up, in a cool, dry place.