Things You'll Need
Wooden stakes

Vinyl tape

Work gloves

Hard hat

Sturdy boots

Machete

Rake

Chain saw

Ax

Utility vehicle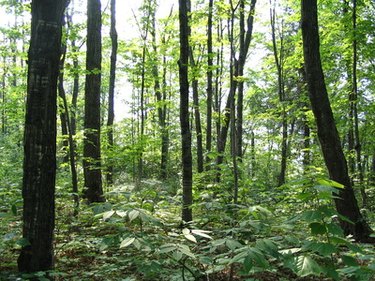 When you decide to clear land, know what you're going to do before you do it; it's important to develop a plan. Learn the topography of the land. Note the locations of dips and valleys, large rocks and boulders, boggy or sandy areas, surface bowls, and open, flat land suitable for burn piles. Check to see whether your trees have any value. Trimmed logs can become lumber, fence posts, poles or firewood. Set a time line for the job and clear the land during a period of good weather.
Step 1
Mark the area of land to be cleared. Use wooden stakes and improve their visibility with a piece of orange-colored vinyl tape attached to each. Allow 20 feet between stakes.
Step 2
Wear work gloves, hard hat and sturdy boots to protect against scrapes from tree limbs and underbrush. Choose a location nearest the largest clearing to allow trees to fall safely, and begin clearing the undergrowth with a machete. Rake the debris up into a pile.
Step 3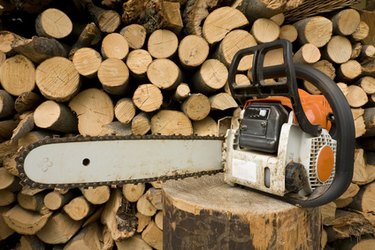 Use a gasoline-powered chain saw and cut trees, one at a time, so that they fall in the direction of the brush pile. Trim the branches from the felled tree with an ax and cut off the top. Place the treetop and branches on the brush pile and roll the trimmed log away to one side.
Step 4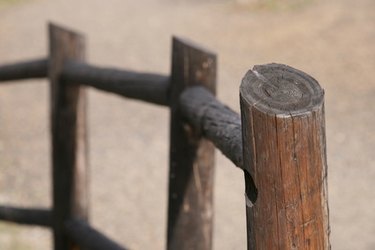 Drag logs to a cleared area with a utility vehicle. Inspect each log to assess its value. You can sell logs with no sign of worms or rot for lumber, fence posts or firewood; cut up logs of no value and put them on the burn pile.
Step 5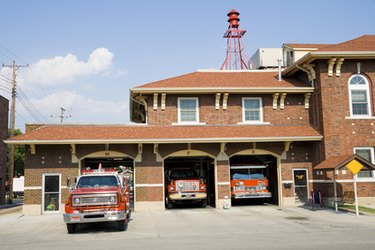 Visit the nearest fire station and find out whether you can burn your tree debris. Haul the brush to a landfill if burning isn't permitted.
Tip
Use mosquito and tick repellent to avoid bug bites when you're clearing land.
Warning
Falling trees and power equipment are dangerous. Keep children away from the work area.