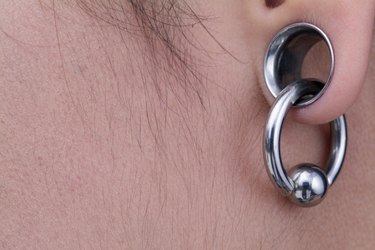 Body piercing is becoming more and more common, and qualified body piercers are in demand. However, any aspiring body piercer has to follow a few rules before he can safely start piercing. In California, there are health and safety codes in place to maintain the safety of the general public when in the hands of a piercer. The health department's regulations are to prevent transmission of diseases, and any piercer wants to make sure his clients return or recommend other clients to him. Following the laws for obtaining a piercing license in California is the most important first step for someone who wants to start body piercing.
Step 1
Decide where you want to apprentice or work as a piercer. You will need this information to give to the health department when you register for a license.
Step 2
Register with your county health department. Anyone who registers for a piercing license in the state of California will receive a pamphlet on the county's sanitation, sterilization and safety standards for piercing. You will have to sign a form acknowledging receipt of these documents and commitment to adhere to the standards. You will also have to pay a one-time $25 fee.
Step 3
Pay the annual inspection fee of $105. This is for the county health department to do an annual inspection of your business or the business at which you pierce to make sure you are complying to the county's health standards.
Step 4
Check with the county health department for any additional fees or regulations. It is legal for counties in California to add additional fees to cover registration and inspection costs, as well as to adopt further regulations that don't conflict with, or are more comprehensive than, the State Department of Public Health's regulations.
Step 5
Provide your business address to the county health department for inspections. If you have another address for where you plan to pierce, you will need to supply this address as well.
Warning
Failure to register with your county health department before you start practicing as a piercer, or violating your county's sterilization, sanitation or safety regulations will result in a fine of $500 per violation.