Things You'll Need
Water-based degreaser

Coarse plastic brush

Water hose

Wet rags

Heavy-duty fabric drop cloths

Galvanized metal etching primer

3- to 4-inch latex paintbrush

Acrylic latex paint

Red oxide primer

Oil-based enamel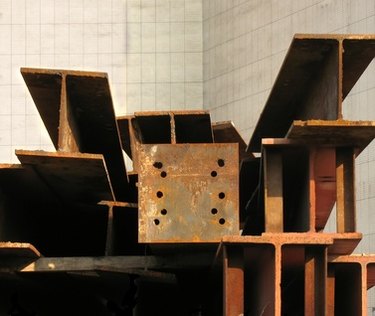 If you have steel beams that appear out of place from their finished surroundings, you can help them blend in better by applying the correct type of paint. Because steel beams are nonporous, they are ill-suited for adhesion and require abrasion prior to application. Unfortunately, because steel is so durable, it is resistant to friction-based abrasion techniques. You must apply a special type of base coat, capable of etching the metallic surface. This will provide a tooth for the paint to adhere to and will prevent the steel from eventually shedding its new finish.
Step 1
Clean the steel beam with a water-based degreaser, using a coarse brush. Rinse the beams with a water hose if they are located outdoors. Use wet rags if the beams are in the interior of the home. Wait 1 to 3 hours for the beams to dry.
Step 2
Protect surfaces beneath the steel beam with fabric drop cloths.
Step 3
Coat the clean steel beam with a galvanized metal etching primer, using a paintbrush manufactured for use with latex paints. Wait four hours for the primed steel beam to dry.
Step 4
Clean the brush with water.
Step 5
Coat the primed steel beam with an acrylic latex paint. Apply paint to the beam just as you did the primer. Wait two hours for the painted steel beam to dry. Add another coat if the etching primer shows through.
Tip
If the steel beam is rusty, you will need to apply a coat of red oxide primer to the beam after the etching primer. Read the label to ensure that the red oxide primer is compatible with latex paint. Use an enamel paint if it is not.
Warning
Do not paint over bare steel beams, or the finish will fail.
Don't use ordinary bonding primers in place of a metallic etching primer, or the paint will eventually peel.