Things You'll Need
Vacuum

Spray bottle

Water

Vinegar

Cleaning rag

Nylon scrub brush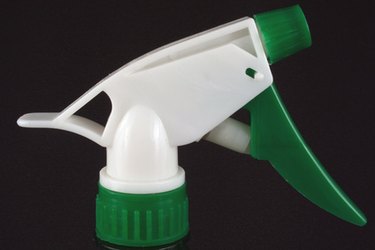 Wood beams can be used in and around the home in many ways, from a support structure to an open rustic-style ceiling. Just as with any other area of the home, these wooden beams collect dust and residue that deteriorates the appearance of the beams over time. To keep the wooden beams looking their best, implement an occasional cleaning routine that will remove light dust and tough residue.
Step 1
Vacuum the beams when you notice dust accumulation. Use the hose attachment, and run over the beams, following the grain of the wood.
Step 2
Fill a spray bottle with 2 cups water and 1 cup vinegar. The vinegar is a natural cleaning and disinfectant that removes residue without damaging the wood.
Step 3
Spray the solution onto a cleaning rag, misting the rag slightly.
Step 4
Wipe the rag over the wood beams, following the grain of the wood. Repeat until all beams are clean.
Step 5
Scrub tough areas of residue by spraying the solution directly onto the beam and scrubbing with a nylon scrub brush. Wipe with a damp cloth when finished cleaning.