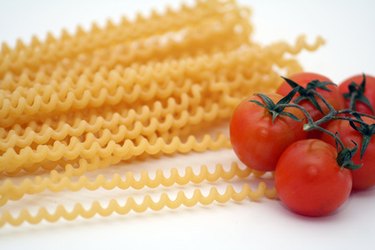 With a simple, sturdy design and solid steel construction, an Imperia pasta machine can last a lifetime while turning out countless batches of delicious, fresh pasta. However, it will only do so with proper cleaning and maintenance. You should clean an Imperia pasta maker immediately after every use, brushing away flour and crumbs using dry tools only and resisting all urges to use soap and water.
The Imperia company states that cleaning should take a matter of seconds, which indicates that it's really quite easy to clean a pasta maker. Of course, there will be times when it takes a bit more effort to get the machine clean, and you might also need to use some additional tools in the process.
How to Clean a Pasta Maker
The Imperia pasta machine and its accessories must be cleaned with a dry cloth or soft brush. It really is that simple provided that you clean the machine as soon as you finish using it and don't let remaining traces of dough harden into the machine. Using a combination of a soft, dry cloth and a soft, dry brush, such as a pastry brush or paintbrush, gently wipe and brush away all visible traces of flour, crumbs and bits of dough from the machine and any accessories you used. Turn the crank to rotate the rollers as you clean, keeping your fingers safely away from the rollers. Use the cloth to wipe the exterior Imperia pasta machine parts.
If you still see bits of dough and flour stuck to your Imperia pasta maker, there are some additional tools and techniques that can be handy. One is to sprinkle a little flour into the rollers before turning them, which will help to dry out any sticky bits of dough and make them easier to brush or wipe away. Toothpicks, wooden skewers and canned condensed air can also be useful for dislodging stuck particles. You can also run a piece of scrap dough, polymer clay or kids' play clay through the rollers several times, which will pick up any stuck debris.
Getting the right consistency of pasta dough will make it significantly easier to clean a pasta maker when you're finished. Fresh pasta dough should be soft and pliable but not wet or sticky, and it should easily move through the machine's rollers in one piece. It can take some practice, but adjusting a dough's consistency is as easy as adding a touch more flour or water as needed. This is much easier than cleaning sticky dough out of a pasta machine.
Maintaining an Imperia Pasta Maker
In addition to cleaning your Imperia pasta machine after every use, you can keep it in top condition by lubricating its parts every six months or any time you hear the machine squeaking. Apply a few drops of food-grade mineral oil at the ends of the rollers, distribute the oil with a brush and turn the crank a few times to help distribute the oil around the Imperia pasta machine parts. Always store the pasta maker in a dry place, preferably in its original box, to prevent rust and keep it from getting dusty.
How Not to Clean a Pasta Maker
Never wash an Imperia pasta maker or any manual pasta machine in the sink or submerge the machine or any of its parts in water. Do not put it in the dishwasher. Try to clean it without using any detergent or soap and do not use water at all. At the very most, you might use a slightly damp cloth to wipe the exterior and then immediately buff it dry with a towel.
Even a small amount of moisture trapped inside a pasta maker can cause its steel components to rust, which will prevent it from working properly and will ruin any pasta dough you run through it. Adding water also makes stuck dough even stickier, making it much more difficult to clean. Also note that damage resulting from improper cleaning invalidates the Imperia pasta maker's one-year warranty.