Things You'll Need
Pencil

Drill

3 stainless-steel screws, 1¼-inch

Screwdriver

Flag bracket

Flag pole

Flag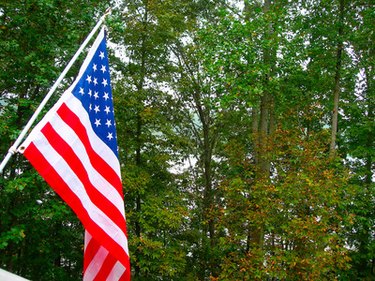 Most residential properties don't have a permanent flag pole that's built into the ground. In spite of that, many people are able to proudly display a flag. You can attach a flag pole bracket to the front of your house, allowing you to safely and securely mount a flag pole. The project is fairly simple and can be completed in about an hour's time.
Step 1
Choose a location on the front of your home on which to mount your flag pole. Be sure to pick a spot that's unobstructed so the flag will fly freely and be visible. Hold the flag bracket in position and use a pencil to mark where the screws will be attached to the house.
Step 2
Drill holes in the wall through the pencil marks.
Step 3
Position the flag bracket over the holes. Secure the bracket to the wall with 1¼-inch stainless-steel screws.
Step 4
Attach the flag to the flag pole, then place the pole in the flag bracket.