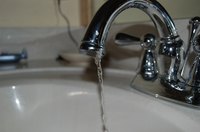 New quick-closing toilet fill valves can cause water hammer situations in many plumbing systems. Ways to eliminate water hammer after flushing a toilet include installing a permanent water hammer arrestor at the toilet supply, installing a whole house bladder tank at the water heater or individual fixture arrestors in several locations throughout the home. Installing a small, pressure-absorbing bladder tank on the cold water supply of the home's water heater is the best solution. Installing the tank will require some plumbing skill. The experienced do-it-yourselfer should have no problem with the pipe connects required.
Things You'll Need
Tubing cutter
Emery cloth
Flux
Acid brush
Copper fittings
Bladder tank
Thread tape
Turn the main water supply off to the water heater, either at its individual fixture cut-off or at the main house supply.
Cut the copper supply pipe with tubing cutters in a horizontal location. Sand the pipe ends and fittings with emery cloth. Coat the outside of the pipe and inside of the fittings with flux; use a small acid brush. Install a tee fitting facing up. Cut a 2-inch piece of copper pipe and insert it into the top of the tee, and then slip on a female adaptor. Solder all the joints with a torch and lead-free solder. Wipe the joints clean with a rag and allow them to cool.
Wrap thread tape around the male threads of the pressure tank several time to insure a watertight connection.
Screw the tank onto the fitting by hand.
Turn the water back on and check for leaks.