Things You'll Need
Building permit

Measuring tools

Concrete mason

Cinder blocks

Gravel

Concrete for flooring

Metal grid

2-by-12-inch framing boards

Exterior siding

Windows

Garage roll-up doors

Walk-out door

Pre-made roof trusses

Metal support posts

Exterior-grade plywood

Asphalt shingles or metal roofing

Guttering

Garage door opener

2-by-6-inch pressure-treated boards

Electrician

Breaker box

Electrical outlets

Light fixtures

Plumber

Water pipes and drains

Small sink

Bathroom fixtures

Plywood

Drywall

Insulation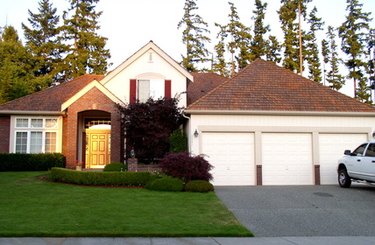 A well-built garage can add market value to almost any home. A double-car garage with room for additional workbench space is highly desirable for most families. Design and construct the garage to look appropriate with a home's architecture, however. A garage that does not blend well can actually detract from curbside appearance of the house. The project can be accomplished in stages, so it can be built over several weekends if needed. Check with local building authorities for any codes and restrictions, and obtain a building permit before beginning work.
Step 1
Measure the 30-foot-by-40-foot exterior space to allow for the structure. Dig a foundational wall extending at least 2 feet into the soil. Hire a block mason to dig footings and build a cinder block perimeter wall, unless onsite workers have these skills. Fill the space with gravel and engage a concrete delivery truck to pour at least 12 inches of concrete for the flooring. Add a metal grid to the floor area before the concrete is poured to add overall strength. Allow the concrete adequate time to dry and cure.
Step 2
Construct all walls of the garage, including the front facade wall, on top of the cinder-block foundation walls. Build garage walls with cinder blocks that will be covered by stucco or brick. Use 2-by-12-inch boards to construct framing if the garage will be covered with siding or vinyl. Leave room for windows and garage roll-up doors in the structure. Leave room in a side wall for a walk-out door as well.
Step 3
Order or build garage trusses that will be placed for roof support. Use an expert to guide the construction of the trusses, because they will span the entire width of the garage. Do include some center posts, made of masonry or metal, to hold up the trusses as well. Place support posts strategically, so cars can be driven into the garage with enough room to spare.
Step 4
Install exterior-grade plywood on the roofing areas and cover with asphalt shingles, tile, metal or any material matching your home's roof. Build in overhangs and install guttering to sheet water away from the garage. Install metal tracking for roll-up garage doors. Hang the garage doors and install a garage door opener.
Step 5
Frame the door opening for the walk-out door with 2-by-6-inch pressure-treated lumber boards. Purchase a steel door for added security. Hire an electrician to place a breaker box and electrical outlets in the garage area. Install lighting for a workbench area and overhead fixtures if you want it. Engage a plumber to run water pipes for a small sink or small bathroom, if you include one, in a corner of the garage.
Tip
Enclose the ceiling over a workbench area or bathroom area with plywood or drywall. Install heavy insulation so these spaces can be heated in some manner. Never put water lines into the garage unless that area is constantly heated in the winter with heavily insulated walls and ceiling or you live in a warm climate that doesn't freeze. Pipes can easily break in an unheated garage in freezing weather.
Warning
Never build a garage without a walk-out door in case of fire. Even if your garage connects to a home entrance in some fashion, include a walk-out door on the opposite side of the structure.