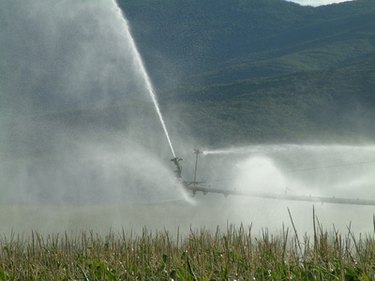 The Hunter Pro C irrigation controller can be set up to control multiple irrigation stations. It has a weather sensor that can turn off the irrigation when rain is detected. If problems arise with the controller, the best way to identify the cause of the problem is to perform troubleshooting steps. After the cause of the problem has been identified, the troubleshooting process should be continued to resolve the issue.
Step 1
Reduce the number of start times if the controller repeats itself or waters continually when it should not be running. Only one start time should be set for each active program. To set the start times, turn the dial to "Set Program Start Times." Make sure only one start time is set per program.
Step 2
Check the wiring for the AC power if there is no display. Tighten any loose connections. Replace any broken wires.
Step 3
Inspect the wiring harness if the display reads "ERR." This error message means there is electrical noise in the system. The wires may need to be replaced with shielded cable to block the electrical noise.
Step 4
Move the "Rain Sensor" switch to the "Bypass" position if the display reads "Sensor Off." This error message indicates that the rain sensor is interfering with irrigation. Moving the switch to "Bypass" bypasses the rain sensor circuit.
Step 5
Inspect the field wiring if one of the valves will not turn on. Check for shorts in the wires. Replace any damaged wiring.