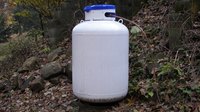 While it is possible to get used to a cool swimming pool, a warm water swimming environment is much more pleasant. Propane heaters make certain the water is warm enough to swim in even on a cool day by allowing the operator to adjust the temperature as needed. Installing a propane heater is a step in making your pool more accessible and comfortable for all to enjoy.
Things You'll Need
Propane pool heater
Propane tank
PVC pipe
PVC elbow fitting
PVC cement
Hacksaw
Cement
Create a level space for the heater to rest on. Pour a concrete slab over the area so the heater will be on a stable surface. Most are very heavy, and cement will help keep the heater in position. Ensure the designated location is close to the propane tank. Position the heater on the slab, and move it so the plumbing and gas lines are easy to access.
Connect the heater to the water line. Use a hacksaw to cut through the PVC pipe in order to fit a PVC elbow joint on the water line. The water line should detour the water flow to the heater. The line exiting the pump should lead to the input on the heater. Connect the heater output line to the return pipe. Remove each piece of the heater that will connect to a PVC pipe, and cover their ends with PVC cement so the pipes will be stabilized.
Wait a few minutes for the cement to fully dry. Connect the heater to an electrical source. Call an electrician if you are not familiar with how to install an electrical line. Improper electrical wiring may lead to an explosion of the propane gas. Electricity is used to simply mechanize propane heaters. It does not act as the fuel source. Turn the propane values to the ON position, and light the heater.
Verify that all parts are working correctly and the PVC pipe is secure. If the propane heater is working correctly, the water should be warmer than before. The pump forces water from the intake into the unit where the propane gas heats up the water. Warm water will now exit through the pool jets. The heater starts up each time the temperature goes below the desired setting.