Things You'll Need
Pipe cleaners

Self-adhesive carnival bow

Individually wrapped candy

Felt

Scissors

Alligator hair clips

Pin back

Craft glue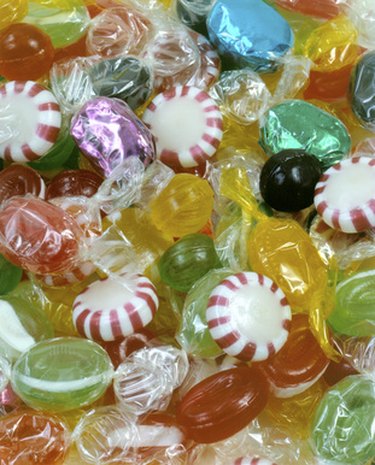 Candy corsages were popular in the 1950s and 1960s. A birthday girl's friends would give them to her to wear during the school day. The kinds of treats attached to the corsage coincided with how old she was. On her 10th birthday, the corsage held 10 lollipops; on her 11th it was draped in 11 gum drops, and so on. Sweet 16 meant a corsage dotted with 16 sugar cubes. Modern candy corsages don't have to follow these rules. They can contain any type of candy. Making one requires basic craft supplies and, of course, the candy of your choice.
Step 1
Bend one pipe cleaner in half and twist it around the base of the center loop of the carnival bow. Repeat with additional pipe cleaners, spacing them out among the loops of the bow, until you have enough ends to match the birthday girl's age.
Step 2
Place a piece of wrapped candy at the end of one of the pipe cleaners.
Step 3
Roll the candy down the pipe cleaner, wrapping the pipe cleaner around its center twice. Repeat with the other ends of the pipe cleaners.
Step 4
Cut the felt with scissors into a rectangle 1 inch longer than the length of the adhesive back of the carnival bow and just less than the width of the pin back.
Step 5
Clip the alligator clip to the middle of the piece of felt.
Step 6
Glue the pin back 1/2 inch from the clip. Glue the felt to the back of the carnival bow.
Step 7
Glue the extra 1/2 inch of felt on each side up and over the edge of the unopened adhesive back of the carnival bow.
Step 8
Clip two alligator clips on each end of the glued felt to act as clamps. Wait 24 hours for the glue to dry.
Step 9
Remove the clamps and pin or clip the corsage on.
Tip
For an odd-numbered birthday, cut one pipe cleaner in half and insert it among the others. Add trinkets like feathers, buttons, beads or glitter to make the corsage extra special, or glue on numbers made out of cardboard to add the birthday girl's age. To turn the candy corsage into a wrist corsage, clip the alligator clip onto a thick elastic ponytail holder.