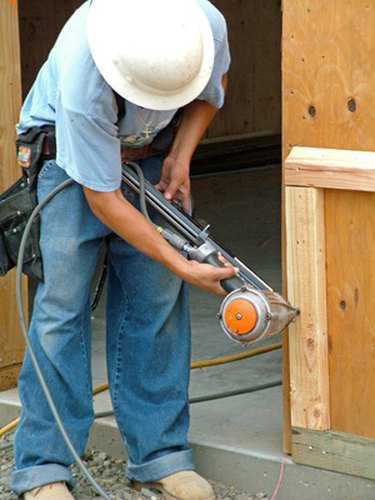 The Central Pneumatic framing nailer is similar to many framing nailers on the market today. Due to its older design and more economical construction it is imperative that you oil your nailer on a daily basis using commonly available pneumatic tool lubricant. The oiling will keep movable parts of the nailer from creating too much heat and friction and wearing out the nailer prematurely. Daily oiling will also produce fewer misfires.
Step 1
Disconnect the nailer from the air hose, if connected. Hold the pneumatic nailer with one hand and grasp the air coupling with the other. Pull back on the outer part of the coupling and then move the nail gun away from the coupling until it disengages.
Step 2
Turn the nail gun so that the air nipple is facing up. The air nipple protrudes from the bottom of the handle.
Step 3
Place the tip of the oil bottle directly over the opening in the air nipple.
Step 4
Squeeze the bottle gently to force out a drop of oil. The oil should drop into the air nipple.
Step 5
Apply a total of three drops of oil to the framing nailer.
Tip
Pneumatic tool lubricant is commonly available anywhere pneumatic tools are sold.