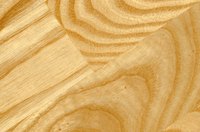 Wood is a desired and elegant floor material to have in any home, but they are susceptible to damage through scratching, burning or even staining. Luckily repairing burn marks and other damage to hardwood flooring is doable with a few materials. Most damage done to wood flooring affects the finish, which may easily be sanded away and refinished to restore the flooring appearance. Once you have repaired your wood flooring, keep it protected with a waxy finish to reduce scuff or scratch marks.
Things You'll Need
Fine grit sandpaper
Putty knife
Wood filler
Stain
Dry cloth
Flooring wax
Inspect the burned area on the floor.
Scrape out any burned wood from the area using a putty knife.
Lightly sand down the burned area with fine grit sandpaper if it is a surface burn. Use a gentle back and forth motion with the sandpaper, going in the direction of the wood grain until the stain is no longer visible.
Fill any burn holes with a wood filler. Scoop out a small amount with your index finger, and apply into the hole. Smooth it out with your finger and allow to dry. Sand down dried wood filler to blend in with the wood flooring.
Apply stain to the wood flooring that matches the floors shade. Allow to dry.
Cover the entire area with a floor wax solution for added protection to the woods surface.