Things You'll Need
Paper

Incense

Weather stripping

Water

Dish soap

Towel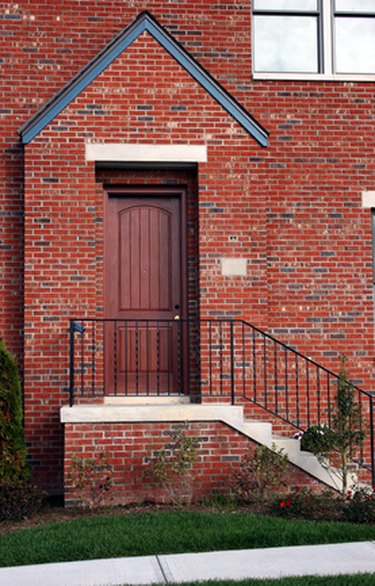 A casual, cool breeze in your home can be pleasant on a spring day with the windows open, but it can be a nightmare in the middle of winter when your heat is running. Gaps underneath doors allow air to escape, wasting your home's energy in heating and cooling efforts. Plugging up these gaps can mean saving money and energy within your home; weather stripping products offer a way to close the gap and keep your home as warm or cool as you desire.
Step 1
Check your doors to see if you are losing energy. Lay a piece of paper under the door and close the door firmly. According to the Department of Energy, if you can pull the paper free without tearing it, you are losing air and energy. You also can check by turning off all vents, closing all doors and windows, and turning on an exhaust fan. Run a stick of incense around all doors; if the incense smoke blows around, you have an air leak.
Step 2
Choose a weather stripping product. There are a large variety of weather stripping products available; work with a professional installer or with experts at a hardware or home improvement store to choose one that is best for you. Products vary by size, material and purpose, including weather-resistance, moisture level and temperature. Be sure that you know the position of your door against flooring or carpet, and choose a product that will not erode or damage the floor.
Step 3
Carefully measure your weather stripping product before installing. Measure the door and door jamb twice before cutting, and then cut the material so that you can apply one continuous strip of weather stripping along each side of the door, including underneath. Make sure to carefully measure the distance between the door and the jamb, so that the weather stripping secures the door without making it difficult to open or close.
Step 4
Wash the door and door jamb with water and mild detergent to remove dirt, dust and other contaminants. These contaminants can ruin the bond between the door and weather stripping, perpetuating the air leak problem. Dry the surface thoroughly before installing.
Step 5
Install weather stripping materials per product instructions; depending on the type of material you have, installation methods may vary. Be sure that all product meets snugly at corners or joints; gaps between weather stripping material can cause more air leaks.
Tip
If you have trouble locating all of the air leaks in your home, hire a professional technician to assess your home. These professionals can depressurize a home to find all air leaks in doors, windows, siding and other areas.
Hire a professional installer if you are unsure about installing your weather stripping. Only proper installation can ensure that the air leak has stopped.
There are a number of commercial products available to lay in front of or behind doors to prevent air from leaking underneath. Find such products at variety stores or hardware and home improvement retailers.