Things You'll Need
Large flat surface

Dryer (optional)

Damp washcloth (optional)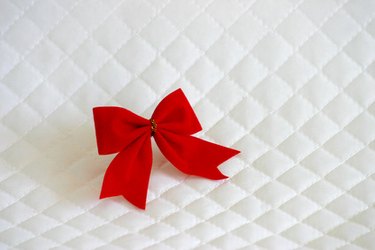 Quilt batting is usually wrinkled or creased when you remove it from the package. Laying the quilt batting out flat may be all that is needed to remove wrinkles. Further methods you use for removing wrinkles from quilt batting depend upon the fiber content. Sometimes you might need to tumble the batting in the dryer on the fluff or low-heat setting. Although a little heat is fine with most types of batting, you should never use heat with wool or alpaca, as it will shrink.
Step 1
Unfold the quilt batting and lay it out flat on a bed or another large surface. Gently smooth out wrinkles with your hands.
Step 2
Leave the batting undisturbed for 24 to 48 hours.
Step 3
Check the batting for wrinkles and creases. Tumble in the dryer with no heat for 10 minutes, if necessary.
Step 4
Remove the batting from the dryer and check for wrinkles and creases. Place the batting in the dryer with a damp washcloth and tumble on low heat for 10 minutes, if wrinkles are still present and the batting contains no wool or alpaca.
Tip
A small amount of wrinkling will smooth out during the quilting process and is not a cause for concern. In addition to placing a damp washcloth in the dryer, mist sharp creases in high-loft polyester batting with water prior to tumbling on low heat.
Warning
Never hang batting, as this causes distortion. Make sure to relax the batting on a flat surface that is large enough to prevent stretching where it overhangs the edges. Never use medium or high heat when removing wrinkles from quilt batting. Do not iron quilt batting to remove wrinkles or creases.