Things You'll Need
Silk flowers (optional)

Artificial berries (optional)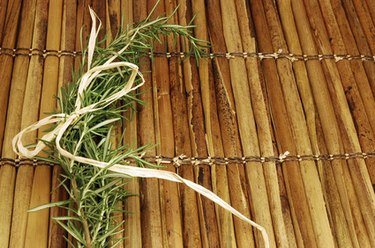 The Smithsonian National Museum of African Art website explains that raffia materials come from raffia palm leaves and serve as a primary textile for clothing, prayer rugs and shrouds in Madagascar. Raffia ribbon provides a decorative flourish for home-decorating and craft projects. It goes well with country-cottage-style decor, homemade baskets, jar-lid decorating for home-canning gifts, wreaths and floral displays. Raffia ribbon makes an effective binding for hand-bound books. With a little practice, you'll find multiple ways to use raffia ribbon.
Step 1
Select a project for using raffia ribbon. For example, decorating vases in your home.
Step 2
Assemble the supplies for your raffia ribbon project, such as silk flowers and artificial berries to decorate the raffia bow.
Step 3
Wrap the ribbon around the object you want to decorate. For example, place the raffia ribbon around a pottery vase right below the top lip. Pinch the raffia ribbon together where the end of the ribbon meets the rest of the ribbon and allow 8 inches more for tying. Add more length if you like long tails on the bow. Cut the raffia ribbon.
Step 4
Center the raffia ribbon around the vase under the lip. Cross the raffia ribbon and tie a bow, in the same way you tie your shoes. Pull the two loops of the bow out as large as your want them.
Step 5
Tie the raffia ribbon around the middle of a vase that's narrow in the center, such as a bud vase or hourglass-shaped vase.
Step 6
Create a double bow by making the first two loops, pulling them snug and then creating a second pair of loops. Wrap one loop around the loop and pull it snug. Cut the ends of the ribbon at a 45-degree angle to create points in the raffia ribbon.
Step 7
Decorate the handle of a gift basket or craft item with raffia ribbon. Tie the raffia ribbon at the base of the handle. Spiral the raffia ribbon around the handle to the other end. Make a bow at the end of the handle. Add decorative items below the raffia bow, such as silk flowers or artificial berries. Wrap the wire stems of the decorative items around the base of the handle to hold them in place.
Step 8
Braid raffia ribbon to use as a decorative border on a picture frame or wall hanging or to make into a doll's belt. Tie three strands to a chair rung, drawer handle or other stationary object and make a three-strand braid the same way you braid hair. Tie off the end with a small piece of raffia ribbon or with a contrasting colored ribbon.
Tip
Decorate dolls, dollhouses, wall hangings, hair ornaments, gift packages and other projects with raffia.
Warning
Keep raffia away from fire and sources of flame. Keep loose pieces of raffia away from pets.