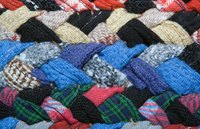 If you have a lot of old t-shirts, you can turn them into home decor. Make a braided t-shirt rug with even limited sewing skills; the number of t-shirts you have on hand will determine the size of your rug. Use these braided rugs in a small size as chair cushions or make larger pieces to serve as area rugs, welcome mats or splash mats in the kitchen. Using t-shirts will make the rugs machine-washable and dryable as well, so they are easy care.
Things You'll Need
Safety pin
Needle and thread
Cut a large rectangle out of the front and back of each t-shirt. Cut these rectangles into long strips that are each 1 1/2 inches wide.
Take three strips and hold one end of each strip together. Safety pin these strips to a working surface such as a pillow or mattress.
Braid the three strips together, the same as you would to braid hair. To do this, take strip A (left) and pass it over strip B (center). Then take strip C (right) and pass it over strip B. Continue to alternate, taking the strip on the left over the center and then the one on the right. Stop when you have approximately 1 1/2 inches left of each strip.
Fold the bottom edge of one strip up and cut a small slit on the fold. This will position the slit in the fabric center, just in from the bottom edge. Repeat this with the other two strips in your braid and with three new strips of t-shirt fabric. Take a new strip of fabric and pass it through the first slit; then take the opposite end of the new strip and pass it through the slit on the same strip. Now you have made sort of a slipknot to attach this new strip to your original one. Repeat with the other two strips.
Continue to braid and add strips until you run out of t-shirt fabric.
When you come to the end of the fabric, make a stitch through all three strips to hold them together and secure the braid. Coil this end inward on itself to make a spiral, and lay it flat on a table. Make a few stitches between the rounds of the spiral to hold them together. Continue to spiral the braided fabric around itself to make a circular shape, adding stitches as you go to hold it together. When you finish, secure the last end of the braid to the rug and turn it over so the stitches won't show when you display the rug.