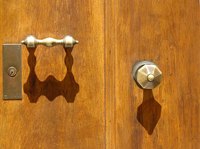 Old door hardware dulls over time. The hardware is often a design element that can either make your door attractive, or make it look aged and outdated. To properly clean the old door hardware, you can quickly make an inexpensive cleaning solution that will clean all types of hardware found on your doors.
Things You'll Need
Cleaning cloths
Old toothbrush
Cleaning bucket
Dish soap
Salt
Vinegar
Flour
Bowl
Cup
Spoon
Wipe the hardware with a cleaning cloth dampened slightly with warm water.
Mix 1 cup water and 1 tbsp. mild dish soap in a cup.
Dip a cleaning cloth in the solution, wring out the cloth slightly, and wipe over the hardware. Dip a toothbrush in the solution and scrub hinges and crevices.
Wipe the area with a damp cloth when finished to remove the lifted residue and soap solution.
Polish metal hardware that has dulled by mixing 1/2 cup vinegar, 1 tsp. salt, and enough flour to make a thick paste. Dip a cleaning cloth in the mixture, wipe a thin layer of the paste onto the hardware and let sit for 10 minutes.
Wipe the paste off the hardware with a damp cloth.