Things You'll Need
Pewter sample, photograph or paint swatch

White paint

Black paint

Raw umber paint

Ultramarine blue paint

Metallic silver paint

Palette

Palette knife

Paintbrush

Scrap paper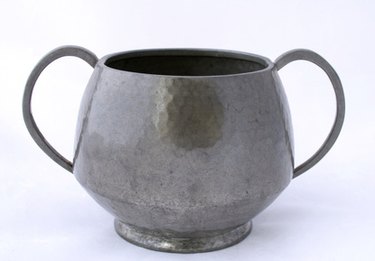 While some painters prefer the bright, saturated colors that come right out of the paint tubes, there are an endless number of nuanced colors artists can create themselves. Pewter, a subtle shade somewhere between cool gray and silver, is one of those colors. Mixing your own paint requires a broad selection of colors, as well as a willingness to experiment. Start out by only squeezing out small quantities of each color to avoid wasting paint.
Step 1
Squeeze out black and white paints on a palette. Use more white than black, as black is very concentrated. Mix the paint together to make medium gray paint. Add more black or white as necessary.
Step 2
Put a dab of both raw umber and ultramarine blue on your palette. Mix small amounts of both paints to the gray paint, using slightly more blue than gray. The ultramarine blue will give the paint the cool tint it requires, while the raw umber will neutralize the blue gray.
Step 3
Add a dollop of metallic silver paint to your palette. Mix in the silver paint to give the pewter paint a slight sheen. Metallic paints contain mica, which provides a reflective quality to paint colors. Pewter has a much duller surface than silver, so only include a small amount of silver.
Step 4
Paint a line of your pewter paint on a piece of scrap paper. Compare the paint color to your pewter sample or photograph. Adjust the color by mixing in any of the different shades of paint, as necessary.