Things You'll Need
Tape measure

Pencil

T-post

1 galvanized 2-by-4 hanger

1 2-by-4-by-96-inch board

1 box of framing nails

Hammer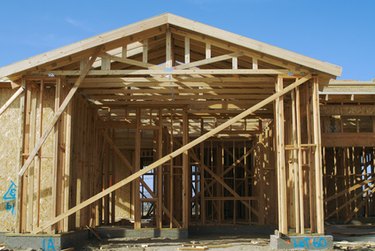 Two-by-four wood is a common size of dimensional lumber. T-posts are used in general framing applications. There are different methods for attaching dimensional wood such as 2-by-4s to T-posts. The wood can be toe-nailed directly to the post or it can be placed into a metal hanger and fastened to the post. Ceiling joists and rafters are commonly attached to T-posts in light framing. The dimensional lumber acts a a frame for structures such as houses, garages and sheds.
How to Attach 2-by-4 Wood to T-posts
Step 1
Use a tape measure to measure up to the point where you need to place the 2-by-4-by-96-inch board. Mark the measurement on the T-post with a pencil.
Step 2
Place the galvanized 2-by-4 hanger on the pencil mark. Align the hanger so it is centered on the post. Drive framing nails through the holes in the hanger with a hammer to fasten it to the T-post.
Step 3
Align the 2-by-4-by-96-inch board over the slot in the hanger. Slide the board down into the slot. Drive framing nails through the holes in the hanger slot with a hammer so they go into the post at an angle. The angle of the nail in combination with the support of the hanger provides a strong joint. Continue the framing project.
Tip
Use hangers for all of your framing joints for easier construction and a stronger structure.
Warning
Wear eye protection when working with wood.