Things You'll Need
Picture frame (any size and style)

Plastic canvas (any color)

Ruler

Permanent marker

Scissors

Hot glue

Finishing nail

Hammer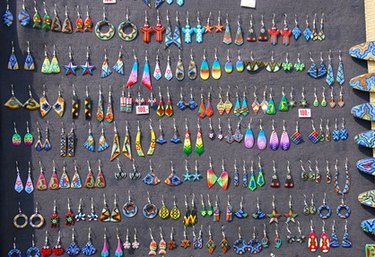 Though jewelry boxes serve as practical and protective storage units for earrings, those with very small earring collections may be able to keep them in a framed earring holder. This option may also work well for those with very eclectic earring styles or earrings that they wear all the time. These frames hold a screen that posts and fishhook earrings pass through easily, allowing women to display their earring collections. Since earrings are designed to be attractive, these frames could add a bit of decoration to a bare bureau. They also make good gifts for women of all ages.
Step 1
Remove the backing and glass from the frame and measure the inside of the opening with your ruler. Make a note of your measurements.
Step 2
Use your measurements and ruler to draw a rectangle onto your plastic canvas with permanent marker. For instance, if the opening measured 5 inches by 8 inches, draw a 5 by 8 inch rectangle on your plastic canvas. Plastic canvas is a plastic grid that some weave yarn through. It is available at craft stores.
Step 3
Cut out your plastic canvas rectangle, making sure to cut on the outside of your lines. Center the piece over the back of your frame to make sure it fits; it should overlap the inner lip of the frame where the glass sat.
Step 4
Run a bead of hot glue over the inside lip of your frame and press the plastic canvas in place. Let the glue set for an hour and reattach the back if you intend to use the frame for fishhook earring styles only. The hooks will slide easily through the grid and sit between the plastic and the backing.
Step 5
Do not replace the backing if you want to use the frame for post earrings. Instead, hang the frame on the wall with a small finishing nail or prop it against your mirror. This allows you access to the backs of the earrings.